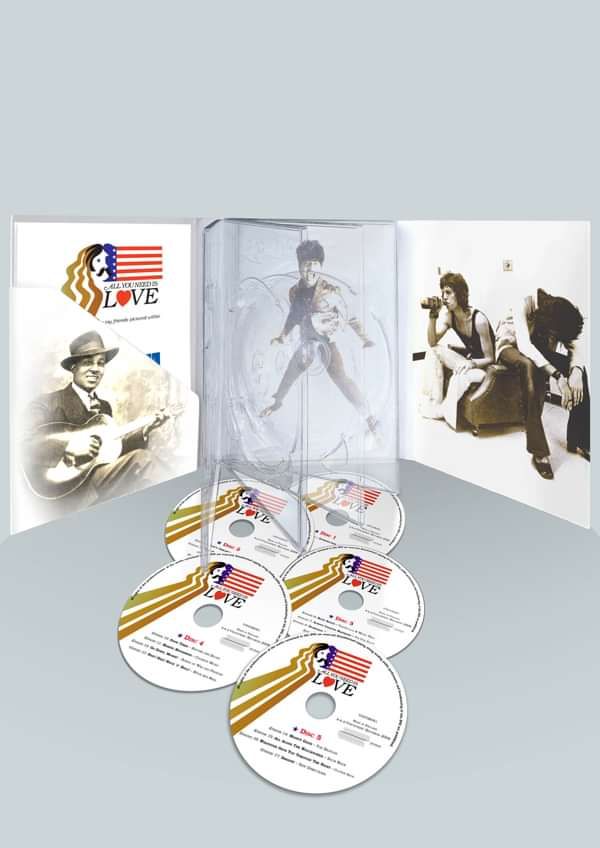 Tony Palmer: All You Need Is Love 5DVD (TPDVDBOX1)
In the early part of the 21st century the music industry earns literally billions of dollars; its influences stretch beyond merely musical art forms and are now an integral part of many different media including film, television and now the new digital and Internet industry.
In the mid-70s, at the suggestion of John Lennon, the celebrated journalist and film director Tony Palmer decided to document the 'Story of Popular Music' and set about interviewing and filming all the major players in the industry at that time, past and present. Even in the mid-70s this was seen as a monumental task, but despite the scale of the undertaking, Tony Palmer made a series of films that set the standard to which all subsequent biographers and documentary makers aspired to.
The critically acclaimed All You Need Is Love was broadcast across the world between 1976 and 1981. But since that time, it has neither been repeated nor commercially released on either video or DVD.
Now available for the first time, All you Need Is Love makes its DVD debut as a lavish boxed set, which contains all 17 episodes of the series on 5 discs. Contained within those discs is the 'Story of Popular Music', encompassing Ragtime, Blues, Jazz, Vaudeville, The Musical, Folk, Swing, Country and Western, Rock 'n' Roll and beyond, and includes interviews with some of the major names of the past 50+ years including John Lennon, Paul McCartney, Elvis Presley, Jerry Lee Lewis, Jimi Hendrix, Stephen Sondheim, Benny Goodman, Bing Crosby, Mike Oldfield, The Beach Boys, Tina Turner, Sam Phillips, Dave Brubeck, Dizzy Gillespie, Richard Rodgers, Roy Rogers, Benny Goodman, Bo Diddley, Muddy Waters, Phil Spector, Bill Monroe, Bill Graham, Bill Wyman, Frank Zappa, Eric Clapton and many many more.
It has frequently been described as the "definitive music documentary", and is regarded just as highly today as 'cult viewing' as it was over 30 years ago when it was first broadcast.