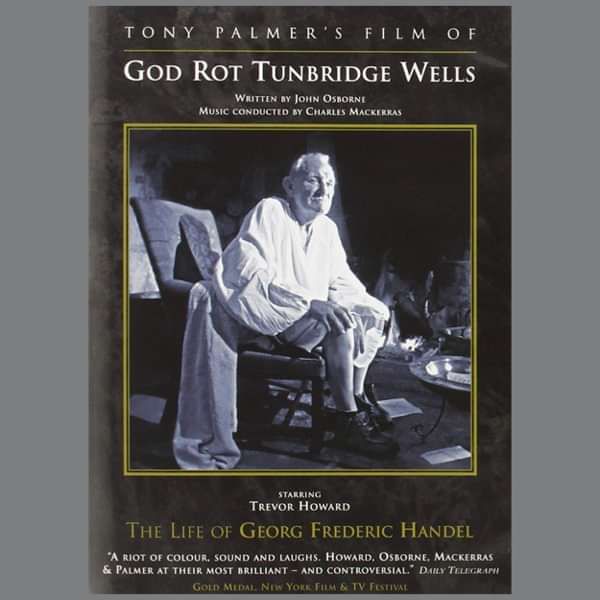 Handel: God Rot Tunbridge Wells - The Life Of Georg Frederic Handel DVD (TPDVD114)
This film was originally shown in 1985 on British television, Channel Four, to commemorate the 300th anniversary of the birth of that honorary 'British' composer, Georg Frederic Handel. It caused a predictable furore.
First, it was written by John Osborne, and what the hell did he know about music? "A trashy comic strip", was among the more generous of reviews. Trevor Howard, in what turned out to be his last major film, was thought incoherent at best and absurd at worst. As for me, well, according to some television critics (who are for the most part moronic, even illiterate) I had apparently returned to the bad old days of over-indulgent rock 'n' roll vulgarity, and made a film full of anachronisms such as a wind-up gramophone on which Handel played his 'recordings' (sic). I was nothing but a "precocious irritant", wrote one. Osborne was amused (although not surprised) by all of this virago, especially when he was struck down with pneumonia and lugged off to a hospital in, yes, you guessed it, Tunbridge Wells. "Mr Osborne", he was told by a very sexy nurse (his description, as he related in The Spectator), "this is punishment for having mocked our lovely town. How can you say 'God rot Tunbridge Wells'? Oh naughty Mr Osborne".
Only the music escaped criticism. That great conductor Sir Charles Mackerras (another honorary 'Brit') and his fiery cast – Emma Kirkby, James Bowman, Elizabeth Harwood, John Shirley-Quirk, Simon Preston, Anthony Rolfe-Johnson, Valerie Masterson, Andrei Gavrilov & the indefatigable English Chamber Orchestra - were rightly praised for making Handel sound, well, like Handel, full of life and fury, and not the usual syrupy stodge served up by a massed choir of thousands. Simon Preston, then Organist at Westminster Abbey, had wanted me to use his choir. The Abbey authorities would not permit it, so we used them anyway but called them The Extremely Ancient Academy of Singers, and remarkable they are too. And it really does sound like you always felt Handel should sound like – strong, effervescent and yet crystal clear.
And it was this quality that was first spotted by Edward Greenfield, the long-distinguished music critic of The Guardian, and from that moment the reviews did a complete volte face. There was a steady realisation of what it was that Osborne had attempted, namely to strip away what felt like centuries of bad Handel performances (no names here, but Malcolm Sargent gets a swipe) and reveal a composer who had burst upon London like a tornado and not only shaken the smugness of Georgian England to its roots, but laid the foundations of an entirely different tradition of British music making – bold, brassy and brilliant. And there was a growing understanding that the words Osborne had put into Handel's mouth, although completely invented, had derived from a clever reworking of those texts which Handel himself had used in his various operas & oratorios. Thus the King James Bible and The Book of Common Prayer, two books Osborne held in reverential awe, came singing onto the screen in unforgettable resonance, with the gin-soaked and pickled voice of Trevor Howard relishing every last syllable. Howard was very hurt by the first reviews, but luckily he lived long enough to see the worm turn, although every worm that had passed itself off as a television critic he was determined to squash underfoot before he popped off.
Looking back over thirty years later, I can quite see why the film caused the purists to wet their pants. Not for the first (nor the last) time, John Osborne had taken aim at an icon of 'British' culture, and come up with an altogether radical view of a national treasure, which treasures him for what he really was, a man who stood with his chin out, breast puffed up with bull-like stance, defiantly his own man, just like Osborne himself. Mackerras adored the film, and (I was told) for a time went round slightly misquoting one of Handel's speeches from the film. Handel/Osborne/Trevor Howard says, with appropriate insouciance: "What have I done for the Georges of England!" Mackerras said: "What have I done for the Handels of England!" Rescued them, great Sir. Rescued them.