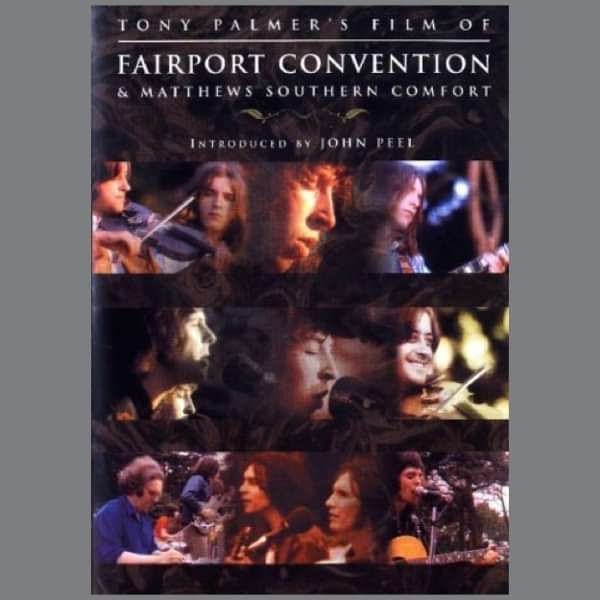 Fairport Convention And Matthews Southern Comfort: Live At Maidstone Castle 1970 DVD (TPDVD105)
By 1970 Fairport Convention had been together as a band for some three years. During this period the band had recorded and released five studio albums, with one of the albums, Liege and Lief, being hailed as genre-defining. At the time of the filming of this performance the band had just recorded their most recent album, Full House, with the line-up featuring founder members Richard Thompson and Simon Nicol alongside Dave Pegg, Dave Swarbrick and drummer Dave Mattacks. This was and still is considered one of the key line-ups of Fairport Convention, although the band only managed one studio and (released much later) one live album.
Apart from the footage contained on this DVD, the Full House line-up was unfortunately never filmed commercially until reunions at the band's regular Cropredy Festival years later. The film, directed by renowned British film director Tony Palmer, captures the band at the Maidstone Fiesta during the summer of 1970 as they run through their set of the time. This included various jigs and reels, and the songs Sir Patrick Spens and Now Be Thankful. Now Be Thankful, incidentally, although originally recorded for the band's album Full House, was even released at the time as a single. The film also features two songs from Matthews Southern Comfort, the band led by former Fairport Convention member, Ian Matthews. As well as having the Fairport connection, Matthews Southern Comfort would also go on to have a massive hit single with a cover of the Joni Mitchell song Woodstock in late 1970.
The film has only recently been rediscovered and the restoration overseen by Tony Palmer. The DVD also includes bonus footage of an exclusive interview filmed in spring 2007 with director Tony Palmer where he explains how he first met Fairport Convention and his thoughts on the band and the film over 35 years later.
Tracks: Various Jigs and Reels - Fairport Convention Sir Patrick Spens - Fairport Convention Now Be Thankful - Fairport Convention My Front Pages - Matthews Southern Comfort Southern Comfort - Matthews Southern Comfort Flatback Caper - Fairport Convention Jenny's Chickens and The Mason's Apron - Fairport Convention