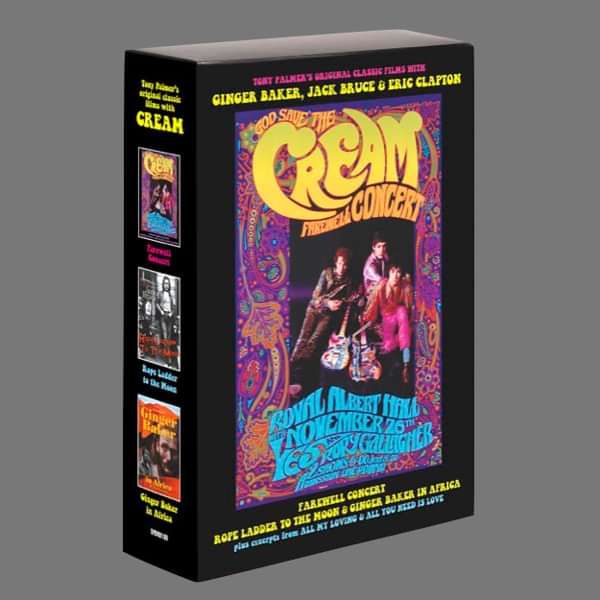 Cream: 3 DVD Boxset (TPDVD188)
Contains Tony Palmer's original classic films with Ginger Baker, Jack Bruce & Eric Clapton.
Cream's Farewell Tour at the Royal Albert Hall (Bonus Features: We're Going Wrong from All My Loving, Layla and Tales of Brave Ulysses from All You Need Is Love, Facsimile of the Original BBC Script)
This was one of those occasions of which it can truly be said: those who were there, will never forget it. November 26th 1968, at the Royal Albert Hall – it only seems like yesterday. And having looked at this again, the concert really does seem as fresh and as pulsating as it was then.
Jack Bruce - Rope Ladder to the Moon (Bonus Feature: 2009 Interview between Jack and Pete Brown)
Jack Bruce remains the greatest bass player in the entire history of rock 'n' roll. He became alegend because of his association with Cream, still one of the most extraordinary bands ever to grace the stage.
But his own story is even more extraordinary. Born amid the slums of Glasgow known as the Gorbals, his musical talent was quickly recognised and he attended the Royal Scottish Academy of Music where he played the cello and keyboards. Then he discovered jazz...and rock 'n' roll. Although Cream did not immediately bring the financial rewards some people imagine, after the group broke up in 1968 he was able to buy a large island off the Scottish coast. Some rags to riches story!!
With Cream he also discovered he was a considerable composer - many of the group's famous hits were written by him - so it was no surprise when in 1970 he released a jazz-orientated LP of his own compositions called Songs for a Tailor.
This 55-minute film, made at the same time, takes Jack from the Gorbals, via Cream, to his island called Sanda, playing the cello, the sitar and thundering away on the organ of the Albert Hall in London, while featuring many of the tracks from his LP. With his strong socialist principles (his father had been a member of the Communist party) Jack Bruce himself provides the striking commentary. "What kind of a society do we want?" it begins....
Originally shown on the BBC in 1971, this critically acclaimed film has been restored to something approaching its former glory and reminds us yet again what a great musician Jack Bruce is.
Ginger Baker In Africa with Fela Ransome-Kuti (Bonus Feature: The Artist by Baker Gurvitz Army)
In November 1971, Ginger Baker wanted to set up a recording studio in Lagos, then the capital of Nigeria. He was among the first great musicians to realise the potential of African music. He decided also that it might be an invaluable musical experience if he travelled to Nigeria overland. Unfortunately, this involved crossing the Sahara Desert. Mad? Well, crazy - but that was what was so endearing both about the man and the musician. He bought a Range Rover - one of the firstever models - and it fell to me (because of myrelationship with CREAM) to film this odyssey.And the music of Nigeria, when we finally gotthere, was a revelation. This was before the time of the oil boom and a succession of corrupt governments; the music pulsated with reckless freedom, from the African talking-drummers of Oshogbo, to a visit to the eastern city of Calabarwhere Ginger's friend (the then unknown) Fela Ransome-Kuti performed for us with devastating power. I remember filming Kuti in a stadium filled with several hundred jiving Africans. Ginger & I, his driver and my cameraman were the only white faces. Scary. But not so scary as our nights in a Calabar hotel (well, 'hotel' is a bit of an exaggeration). The walls of our room, not to mention the seedy mattress on the floor, we recovered black with mosquitoes. I remember Ginger saying that if we survived this, we could survive anything. I'm glad he did, and the film pays tribute to his indomitable spirit and to his extraordinary musicianship.
Running Time: 57mins