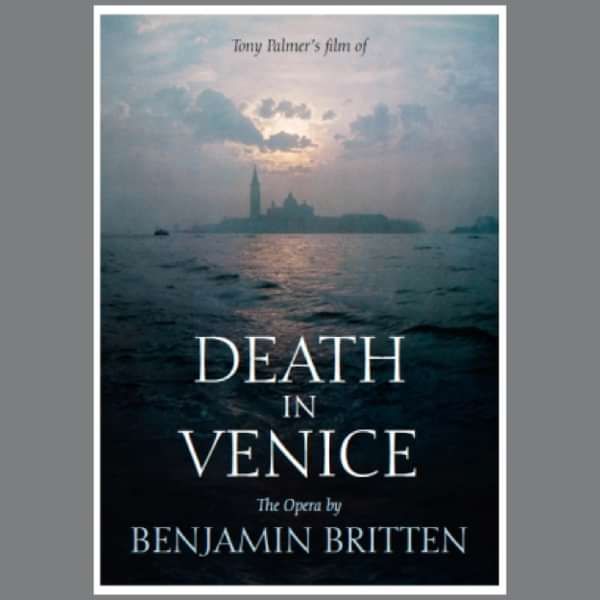 Benjamin Britten: Death In Venice DVD (TPDVD176)
Death in Venice was to be Britten's last full-length opera, first performed at Snape Concert Hall on June 16, 1973. Britten was already ill, suffering from a botched heart operation, and completing the work at all had clearly been a struggle. But he was determined to write an opera and a leading part specifically for his long-time lover and inspiration, Peter Pears. And it was Pears who gave the triumphant American premiere of the opera in October the following year at his own debut in the Metropolitan Opera House, New York. Britten listened to the applause over the telephone at home in Suffolk.
As the opera concerns a writer, Aschenbach, who is disillusioned, in despair and nearing death, it is tempting to conjecture that Britten identified himself with the protagonist of his opera. Britten himself, and later Pears, strenuously denied this. But there is a more curious parallel. As Pears himself says in my film A Time There Was. At the end of Death in Venice, Aschenbach asks an invisible companion, Phaedrus, what is it that he has spent his life searching for? Knowledge? A lost innocence? And must the pursuit of beauty, of love, lead only to chaos? All questions Ben constantly asked himself. That he should do so while singing part of this same great monologue from Act II is especially poignant since not long after he suffered a couple of strokes, which effectively ended his singing career.
In fact, it was soon after Britten had died in December 1976 that Pears had first asked me to film the entire opera with all the original cast, if possible on location in Venice.
After all, apart from Suffolk, Venice was the place that meant most to Britten. The Turn of the Screw had been premiered there; Curlew River had been written there. And as Rita, his nurse, told me when on a last visit to Venice and already confined to a wheelchair, Britten looking out of the window as the plane came in to land suddenly exclaimed like a little boy. 'Look! There it is!'
Despite a miniscule budget (less than £100,000), we eventually in 1980 managed to fulfil Pears ambition, although sadly not with Pears himself for the reason we have seen. Nonetheless, he was very much a presence throughout, and even takes part in a scene or two, although we have never admitted which scenes. He lived long enough to see the completed film and write me the most generous of letters, especially complimenting the Australian tenor Robert Gard for frequently looking (and sounding) almost more like Pears than Pears himself.
How we managed to clear St Mark's Square and the Grand Canal at the height of the tourist season now seems to me a mystery. But I was determined to pay tribute to a composer and a man whose very existence had haunted most of my professional life. I've lost count of the number of times, for instance, I have referred to the extraordinary musical climax to Act I in which Aschenbach eventually stutters 'I love you'. One critic has pointed out that I have used this music in no less than 15 other films. If so, I hope Mr Britten will forgive me. Since that moment over 50 years ago when I sat stunned in Coventry Cathedral at the premiere of the War Requiem (as did everyone else), I have always known that I was in the presence of the greatest composer of our time.
TONY PALMER